KIAI - Pussy Riot/Palm NFT (US)
2023
Nadya Riot call x Feminist Art
Exhibition Lumen Studio , New York, Video art/NYC NFT 1 min.
Curateret af Nadya Riot, Pussy Rio. Palm Foundation.
The Community Vote/ Nadya Tolokoikova, PalmDAO app NFTNYC elected 19 Artists out of 150 to a worldwide digitally exposed exhibition as well as a physical exhibition at Broadway, NYC, US.
KI AI #1 The video portrait of Nadja's KIAI is the kiai of a female karateka.
The KIAI Sound is the concentration of all the karate practitioner's energy in one movement.
"KI" 気, Denotes inner energy, soul, and spirit.
"AI" 合, Means to gather, to unite.
If done properly, KIAI anatomically causes a contraction of most of the muscles in the torso and abdomen, which can dampen the effect of the blows that the karateka can expect to receive in combat and simultaneously send their fighting energy against his opponent.
Nadja's KIAI is: [seør!!]
Nadja has 1.Dan. Black belt, in full contact karate. She has been training in karate for 10 years. She is 48 years old and 157 cm tall.
She is the first woman in the club's 40-year history to achieve this degree.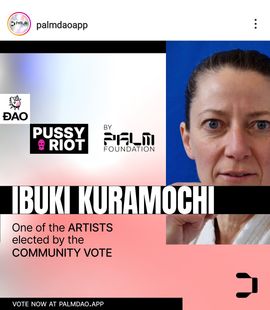 Æstetisk Redskab 2 - Danserinderne
2023 (En parafrase over De 3 Gratier og Danserindebrønden)
Kunstnernes Påskeudstilling, Aarhus Kunstbygning, Aarhus, DK.
Video installation 9 min.
3 women aged +70.
They are each in their powerful feminine energy.
Photographer: JoJo Joachim Johansen
Editor: Zo JiJi
Music composed and performed by Jonas Berg
Æstetisk Redskab 2 won "KP-Prisen 2023"
Jury: Peter Flejsborg, gallerist Aarhus. Jesper Rasussen, rektor Det Jydske Akademi. Pernille Lærke Andersen, forperson KP
Æstetisk redskab 2 er optaget i Helsingør, tæt på P.W. Tegners "Danserindebrønden" med de 3 unge gratier.
Den er på mange måder en parafrase over dette værk.
Fruit Cuddling SKAKS & Amosoma
2023
First out of 3 videos - 9 min.
Sorry! All fruits were harmed!
I forgot to ask for consent. Always ask for consent. However, I hope that their loss will inspire and do good to many people and the inspiration will spare us many consequences of bad 6 life (the consequences are huge)
Thanks to Amosoma.dk, for inspiring us how to do a Fruit Cuddling aka tantric massage.
2022
I'm Sorry!
I say sorry and eat marshmallows.
I was brought up as a Christian and there is a lot to apologize for, really!
Video 11 min.
2022
Kunstnernes Efterårsudstilling Video 2 min.
Feminist energy narratives meet nature.
Music composed and performed by Jonas Berg
2019
Video, performance, food, femmes, and dressed-up bunnies.
An easter performance together with Channie Koksvik, Laura Allen Müller, Marzena Anna Goraj, and Radmilla Radjic